520.624.1300


Explosive Test Site Range Instrumentation
(Click photo to enlarge)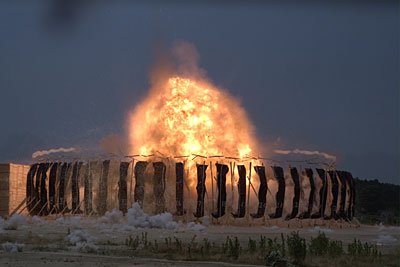 Electronic Detonators (CDUs, EDUs) and their CONTROLLERS, the combination also known as "firesets."
Capacitive Discharge Units (CDU's), also known as Electronic Detonator Units (EDU's) consist of circuitry to charge a capacitor to a high voltage, then to switch the energy in that capacitor into a low impedance load, typically an exploding bridgewire, foil, or the like, at the end of a transmission line.
CDU's can be configured as single-point or multiple-point outputs, the latter for applications where simultaneous high voltage, high current pulses are required. CAL-AV has recently delivered a 24-point fireset with simultaneity specified as 1 nanosecond maximum, shown here during assembly:
(Click photo to enlarge)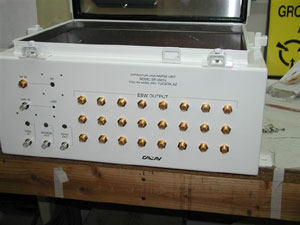 Typically, CDU Controllers are packaged as rack and / or bench-mounted units, intended for indoor use. CDU's are typically packaged as field hardware and are hardened to a degree depending on the application.
Two basic configurations of these units which we have produced are as follows:
The CDU Controller unit is located in a control room, often a bunker or bombproof, and is operated from AC mains power. It generates both the high voltage and triggering pulse, which are sent over long cables to the remote CDU. It may also generate a lower voltage for internal electronics within the CDU, depending on monitoring requirements.

This configuration differs from the first in that AC mains power is supplied, along with arming and triggering signals, is sent from the CDU Controller to a remote CDU. The CDU internally generates the high voltage required to charge its discharge capacitor. A variation of this latter configuration is that a control signal is used to enable remote (range) AC mains power to the remote CDU(s).
Firing panels recently delivered provided the SAFE-ARM function, firing current, and built in low-current load test. They feature a count-down / count up timer, which controls both pre-fire and post fire loads. Control is based on an opto-isolated microprocessor.
Near-IR Flash Detector, Model SP-1005)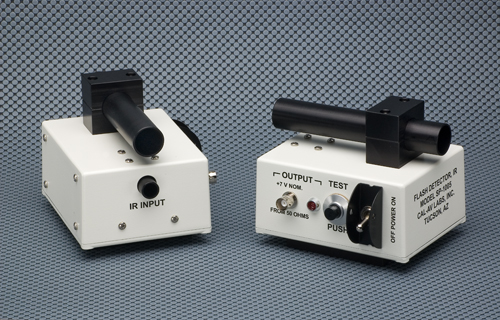 The primary application for this instrument is to supply a timing pulse upon detection of a flash. It has been used with a wide array of flash-producing items, including the following: Small arms, from pistols through small-bore rifles, minigun, and heavier caliber machine guns. Larger caliber tank guns and cannons. Various sizes of mortars. Shoulder-launched weapons. Explosives and flash-bang grenades.
The SP-1005 is typically tripod mounted. It is self-contained, and battery operated. Size is approximately5 x 4.5 x 4.5 inches, overall. It weighs just under 2 pounds. Its output is a nominal 7.5-volt pulse from a 50-ohm source.
Delivery is stock to 45 days, FOB Tucson, AZ
Price is $1,265 per unit.
Since 1959, CAL-AV LABS, Inc. has manufactured electronics for research labs and operational users from government, industry, and universities. Our efforts are split about evenly between standard instruments and modified or custom designs. Some selected examples of these efforts that are related to range instrumentation follow:
(Click photo to enlarge)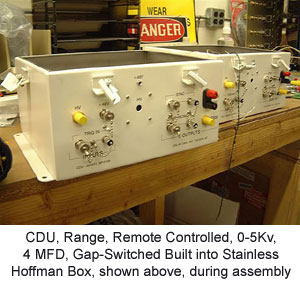 (Click photo to enlarge)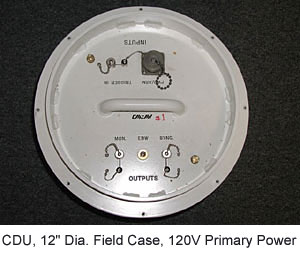 (Click photo to enlarge)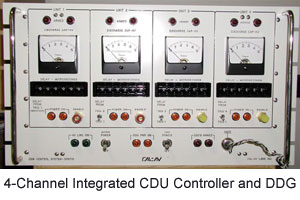 Acoustic sensors, Navy
Magnetic sensors, electromagnetic launch (rail gun) programs. Navy, BAE Systems, NRL
Firing panels, microprocessor controlled count-down / count up timer. Navy
DDG, 150-channel GPIB, HV outputs, early rail gun, Sandia
CDU, 12" Dia. Field Case, 36V Primary Power. Army, SRI, DOE
"CRAB" 12" Field case, 120V control for 12 CDU's. SRI, DOE
4-Channel CDU Remote Control, 0-5KV. Army, Navy
6-Channel Trigger Generator, Make/Break Screen. Navy, Army
12-Channel DDG; 1 nS Resolution, GPIB Control, TTL and Fiber Outputs, 90V Outputs On To and All Delayed Outputs. Range 0-1000 Seconds for flash X-ray application. Navy
30-Channel DDG; similar to above, large pulse-power generation application. Sandia
24-Channel, delay generator, Rubidium clock; 10 nanosecond jitter at 10 minutes out. DECADE Facility, Physics International
6-Channel DDG; 0-10 Seconds, 100 nS Resolution. Two 10A Form C relay outputs with overrun timer on 2 Channels. Explosive range high-speed photography application. Navy
Numerous specialized interfaces, signal conditioners, etc., utilizing both copper and fiber-optic inputs and outputs.
Voice: 520.624.1300 | Email: Info@cal-av.com
CAL-AV LABS, INC.
2440 N. Coyote Dr, STE 116
Tucson, AZ 85745 USA
---
Mobile Antenna / Mast Spring Assemblies
Explosive Test Site & Range Instrumentation | Illuminated Warning Signs | Special Projects
Home Page | About CAL-AV | How to Order
---
Web Design by CS Design Studios