Illuminated Laser Warning Signs
INTRODUCING: THE WS-2103A SERIES
AN L.E.D. ENHANCEMENT OF THE
WS-103 SERIES LASER WARNING SIGNS
Many times, over the past decade, we have looked for an L.E.D. replacement for the incandescent lamps used in our warning signs. Like most L.E.D.s of the past, they were OK when viewed straight-on, but were not up to the task when veiwed from the side, where signs are initially viewed in the majority of installations. (hallways) Finally, we located L.E.D.s that are very visible from the side as well as from the front; these units are the basis for the new WS-2103A series of warning sign.
NEWS: Finally! We've found suitable LED replacements for the lamps in the WS-200B controller and WS-101 mini-sign. See more in infomation about controller, below.
Our previously most popular sign, the WS-103A-3 will remain avaiable through the end of 2015. For many years, eliminating the requirement to change incandescent lamps will be justification enough to upgrade to an L.E.D. version. The WS-2103A series of signs are backward-compatiable with earlier versions; they may be mixed and matched on the same controller. Owing to low-demand, certain other signs, including the WS-103 and WS-102 will be available as special order items after 2015.
Note, that the WS-2103 series signs will have a further advantage in visibility, especially in very large, and/or very bright rooms, or in applications where extra attention-getting warnings are desired.
Please see the following short video clip, which compares these signs, first from straight-on, then from well off to one side.
(Click on picture to view enlargement.)
Use your "back" button to return to this page.
Warning signs usually require a WSC-200B controller for operation. Each controller allows either manual or automatic operation of up to three signs. See additional text below for detailed description of controller function and other sign models.
(Click on picture to view enlargement.)
Use your "back" button to return to this page.
---
CAL-AV's illuminated laser warning signs and controllers feature welded aluminum cases, and utilize industrial-grade components throughout. They have been used in research and industrial locations nationwide since 1992. All models are designed for a minimum service life of 20 years.
| | |
| --- | --- |
| Applications | Features |
| - Hazardous areas, such as laser labs | - Manual or automatic operation |
| - Multiple entrance protection | - Low-voltage interconnections |
| - Remote status indication | - Dual lamp redundancy on signs |
| - Security aid | - Controller drives up to three signs |
Specifications
| | | |
| --- | --- | --- |
| Inputs: | Power: | 115 Vac 50/60 Hz, 1/4 amp. |
| | Signal: | Contact closure or transistor pulldown to drive Internal relay (in controller) (0.5 watts, inductive) |

The WS-103A-3 illuminated laser warning sign is our most popular sign. It incorporates the following options:
More detailed and colored legends
Flashing red lamps in the danger condition
Long–life lamps
Legend wording was composed by Los Alamos National Labs. The WS-103A-3 sign, with its wording and option set, is known among users as "the Los Alamos package."
(Click on picture to view enlargement.)
Use your "back" button to return to this page.
---
The sign shown below is the standard WS-103A. Legends are in black. Options include flashing DANGER lamps and pigtail leads for mounting against a wall with hidden wiring, like an electric clock.
(Click on picture to view enlargement.)
Use your "back" button to return to this page.
---
CUSTOM LEGENDS, CUSTOM SIGNS
CAL-AV Labs welcomes the opportunity to provide custom legends and / or custom signs for a particular application. A significant fraction of the signs that we produce are special designs. The example pictured below is a four-level warning sign that was produced for a government research facility.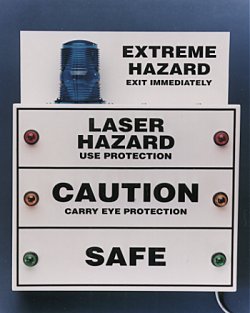 (Click on picture to view enlargement.)
Use your "back" button to return to this page.
---
| | |
| --- | --- |
| Models | Approximate Overall Dimensions |
| WSC-200B Controller | 4¾" x7½" x 3" |
| WS-100B Sign | 10" x 12" X 21/2" concealed mounting plate, black borders |
| WS-101A Mini-Sign | 2¾" x 3¾" x 5¾" |
| WS-102A Sign | 4¾" X 8½" x 2½" |
| WS-103A-3 Sign | 8" x 10" X 21/2" concealed mounting plate, black borders |
| WS-103A Sign | 8" x 10" X 21/2" concealed mounting plate, black borders |
| CV-1A Converter | 3" x 3¾" x4¾" |

Replacement Bulbs
| | |
| --- | --- |
| Models | Replacement Bulb |
| WS-100B, 102A, 103A & 103A-3 | GE or Sylvania #1820 or #1822 |
| WS-101A & WSC-200B | GE or Sylvania #385 |
INCANDESCENT LAMP REPLACEMENT

(OR, HOW MANY LASER SCIENTISTS DOES IT TAKE TO CHANGE A LIGHT BULB?)

REPLACING LAMPS ON WS-100, WS-102, AND 103 SERIES SIGNS

These signs originally used 1820 lamps. Those lamps are no longer used, but have been replaced with 1822 lamps. The 1822 is actually a 36-volt lamp. When operated from a 24-volt power source (as from the WSC-200B controller), its brilliance is diminished only slightly, however, its service life is extended by a factor of about 3. The 1822 is a bayonet base, T-3 ¼ envelope.

(Click on picture to view enlargement.)
Use your "back" button to return to this page.

To replace the lamp, carefully unscrew the transparent plastic color filter / hemispherical dome lens and set it aside. Push down gently on the lamp in the lampholder. While maintaining the downward force, rotate the lamp about 15 degrees in the counter-clockwise direction, and allow the lampholder's internal spring to push it partially out. The lamp may then be grasped with the fingers, and discarded. Insert a new lamp, pushing down gently, turning clockwise 15 degrees, and releasing pressure to let the bayonet lugs to engage and hold the lamp in place.

Now, the tricky part: Looking from aside the lampholder, put lens in place, holding it as square to the lampholder threaded opening as possible. Now rotate counter clockwise, as if you were removing it, until an audible / tactile click is detected, then turn clockwise to screw it in. If successful, it will thread in easily. If the slightest hint of cross-threading is detected, repeat the counterclockwise rotation to detect the correct thread alignment. After a few experiences of this method, you will be the resident Guru.

REPLACING LAMPS ON WSC-200B CONTROLLERS AND WS-101 SIGNS

This controller and very small sign use a #385 lamp, which is a 28-volt, long life aircraft bulb with a T 13/4 SC midget flanged base. NOTE: #385 now replaced by LED modules.

To replace lamp, unscrew the colored filter from the lampholder base. Notice, that the colored filter's small, threaded extension has, at its end, a flange, with a central contact. The flange and contact are actually part of the lamp, which may be removed from the filter by gently grasping the flange with a pair of serrated tine long-nose pliers, and pulling it out, while holding the plastic part of the filter with the other hand.

(Click on picture to view enlargement.)
Use your "back" button to return to this page.

Discard old lamp and replace with new LED module, then replace filter by screwing it back into lampholder base.


Accessories
All signs, controllers and converters are supplied with mating connectors.
Interconnecting wire—Belden 8444 recommended.
Converter, 11 5V ac power to contact closure—other voltages available

Options and Modifications
Flashing red "DANGER" lights
Audible signals when red "DANGER" lights are on. Audible signal is modulated by flasher if flasher is installed
Custom logos, trim and colors available
Click here for detailed instructions for interfacing the WSC-200B Controller including interface circuit diagrams and installation instructions for the Illuminated Warning Sign system.

Shipping Information
The WS-2103A-3 illuminated warning sign and the WSC-200-B controller are generally available for shipment from stock.

Pricing Information
Click here for pricing information.

CAL-AV LABS, INC.
2440 N. Coyote Dr, STE 116
Tucson, AZ 85745 USA
---
Antennas | Baluns | Mobile Antenna Springs
Explosive Test Site Range Instrumentation | Illuminated Warning Signs | Special Projects
Home Page | About CAL-AV | How to Order
---